NEWS RELEASE - 07/11/2013
Two Awards for Harrogate Line Supporters Group
Harrogate Chamber's Chief Executive Brian Dunsby was presented with two national Rail Industry Awards for the Chamber's Harrogate Line Supporters Group at the recent Rail Future Annual Conference in Oxford Town Hall.
These Rail Users Group Awards aim to recognise and reward the various achievements over the past year among the country's 300 Rail User Groups in fulfilling Railfuture's mission: to be the number one advocate for the railway and rail users.
The two categories in which the Harrogate Group was recognised were as follows:
The Best Campaign - COMMENDED - for the most effective campaign in 2013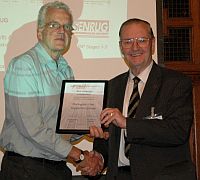 Presented by Christian Wolmar, President (left) to Brian Dunsby (right)
The Best New Group - WINNER - for the most effective new group in 2013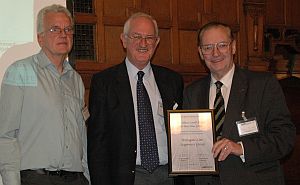 Presented by Christian Wolmar, President (left) and John Ennis, Cotswold Line Promotion Group (centre) to Brian Dunsby (right).
The Harrogate Line Supporters Group was nominated for these Awards by the Yorkshire Branch of Rail Future, to whom they provided supporting evidence of their campaigns to achieve firstly more direct trains between London and Harrogate and secondly the recent bid for electrification of the whole of the Harrogate Line between Leeds, Harrogate, Knaresborough & York.
Official photographs by courtesy of Hugh Jaeger, Media Representative, RailFuture Thames Valley Branch.
With many thanks to Mark Leving and all members of the Group for their many contributions and ongoing support for this campaign.